All vehicle features in one system
ObSAS CBRNe Vehicle Solutions combine all vehicle systems into one. You can control and monitor everything from the same user interface instead of getting cluttered by several different systems and interface.
ObSAS Integrates
Detectors, Sensors and Analyzers
UAV and UGV systems
CBRN Filtration and Overpressure Systems
Flag and Marking Systems
Camera and Video Systems
Glovebox Power System
Water system
Weather Mast Control
From installations to full turn-key solutions
Our services cover all kinds of installations. If you already have your platform selected our team can come and install everything for you, train your personnel and support your project to reach a successful goal.
We can also deliver the whole vehicle as a turn-key solution where you only need to choose the technologies and chassis you need and we will deliver fully operational vehicles for you, train your crew and help you maintain your capability.
Improve your capability
With ObSAS you aren't locked into single manufacturer's technologies or chassis but instead can choose the exact right technologies to fit your specific needs.
We will integrate them into one complete system providing you with improved capability and security. With the devices and vehicle systems all in the same interface you can focus on your mission instead of trying to find the correct information.
ObSAS Provides Complete Situational Awareness
ObSAS Vehicle Solutions are fully compatible with ObSAS Control Center software meaning you can easily see your every vehicle and mobile unit in real time all within the same system as well as your every fixed installation. You will have complete situational awareness at all times with accurate and time correct measurements including weather.
You can issue commands and plan missions from your Control Center and send them to your vehicle and mobile units in the field and then monitor their progress from the system. The vehicle and mobile units will also see each other and all the real time data and alarms they produce in their own client.
For vehicle manufacturers
We offer partnership where we take care of systems, equipment, devices and hardware not directly included in the vehicle/platform delivery itself. Our experience and expertise in the field of CBRNe and system integration are at our partner's disposal to the fullest.
CONTACT US FOR MORE INFORMATION
If you have any questions or are interested for more information
please don't hesitate to contact us. We serve you worldwide.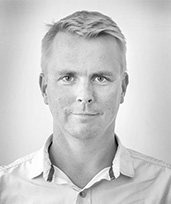 SAMULI KIRJALAINEN
SALES MANAGER
+358 50 347 4702
TOMMI KAINULAINEN
CEO
+971 50 382 6488
+358 40 556 2580 (WhatsApp)